Dock Leveler Ensures Safe, Smooth, & Speedy Loading & Unloading!
Bridging the height and gap difference between the loading dock and shipping trucks and trailers, dock leveler facilitates safe, smooth, and speedy loading and unloading, every single time.
Transport heavy loads with ease, ensure the safety of all, boost workplace productivity, prevent damage to goods being transported, and save time, energy, and money – all at once!
MODEL
CAPACITY
OVERALL DIMENSION
WORKING RANGE
MOTOR
POWER
LGDL6
6000KG
2.0*2.5*0.58M
+350/-310MM
0.75KW
AC POWER FOR UP & DOWN
LGDL8
8000KG
2.0*2.5*0.58M
+350/-310MM
0.75KW
LGDL10
10000KG
2.0*2.5*0.58M
+350/-310MM
0.75KW
LGDL12
12000KG
2.0*2.5*0.58M
+350/-310MM
0.75KW
LGDL14
14000KG
2.0*2.5*0.58M
+350/-310MM
0.75KW
FOR REFERENCE CHOICE ONLY, CUSTOMIZE AVAILABLE PER LOADING CAPACITY, PLATFORM SIZE AND TRAVEL HEIGHT
Dock Leveler Application!
A dock leveler connects the loading bay with the vehicle, enabling smooth and safe transportation of goods and equipment. It can be seamlessly operated using just one button to carefully handle heavy load capacities. Dock leveler can perfectly work with most types and sizes of vehicles, be it a truck, container, or trailer, at all locations, including warehouses, wharfs, ports, storage facilities, and logistics and distribution centers.
Transport Heavy Loads, Easily
The ultimate high-performance lifting system, dock leveler is made with premium-quality steel and can handle heavy loads of up to 5 tons to 14 tons, easily. It offers the reliability and stability you need!
Up to 25 percent of workplace accidents are during the loading and unloading process. Yes, that's right. Dock leveler ensures the safety of your people and products courtesy of its enhanced capabilities that help prevent accidents, including rapid free-fall, vacant dock drop-off, and more.
With unique structural engineering and high durability, dock leveler continues to stand the test of time and terrain. With minimal repair and maintenance costs and an increased lifespan, the dock leveler offers a high return on investment.
Streamline your business operations and processes by effortlessly using the ergonomic and user-friendly dock leveler that functions with just a press of a button and offers a range of solutions such as easy pit cleanout, drive-through, secure end-to-end loading, high capacity, supply chain integrity, and more.
Smooth, Error-free Transportation
With innovative design and cutting-edge technology that ensures a smooth transition by absorbing shocks and vibrations, you can transport products and equipment without worrying about damaging them or causing any injuries.
Your dock leveler size, capacity, and specifications requirements are unique. This is why we customize the dock leveler just for you, ensuring it meets all your requirements and continues to serve you.
With industry-leading warranty on structure and power based on your equipment and facility, our dock levelers deliver on all counts.
Here is how our Dock leveler works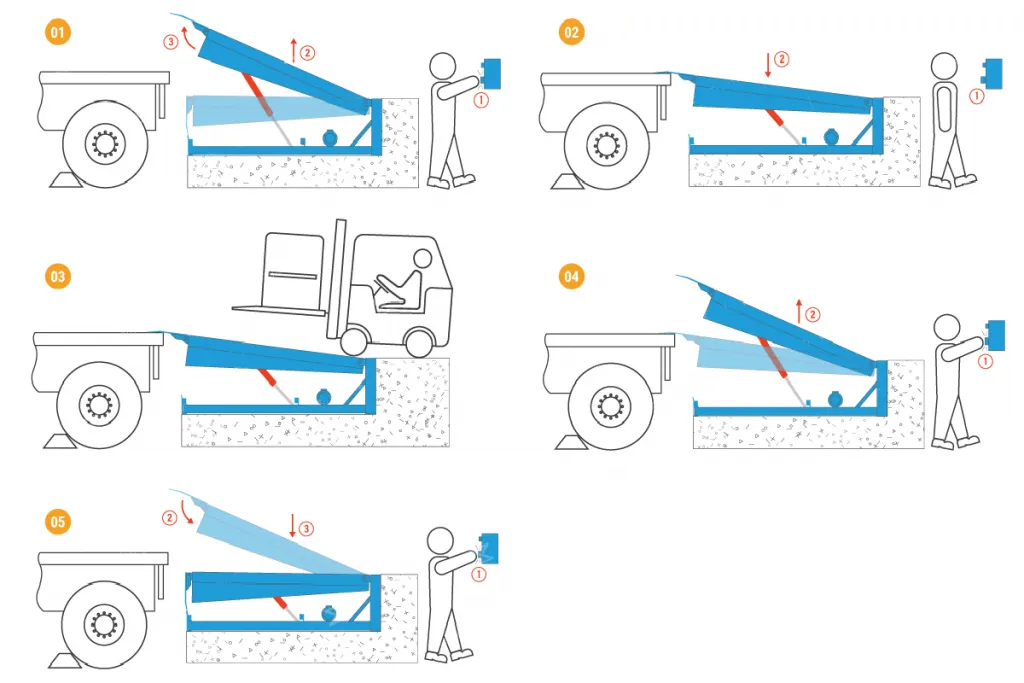 Dock Leveler Manufacturing Done Right!
At LG LIFT, we specialize in manufacturing custom dock levelers on-demand.
Be it a hydraulic dock leveler, mechanical dock leveler, or special dock leveler in pit-style, edge-of-dock, or vertical storing, we can manufacture dock levelers exactly according to your size, capacities, and loading requirements.
Dock Leveler Features & Functionalities!
6T 8T 10T 12T 14T for choice

Deck size 2000*2500mm, Lip 400mm

+350/-310mm operating range

Checkered steel anti-skid running surface of deck

8-14mm thick strong steel plate as lip board

1 Button easy control

2 Pcs high wear resistance bumper blocks

Safety skirt plates /safety toe guards on sides of dock leveler

Safety maintenance and inspection strut supports deck and lip

Good rust prevention after shot-blasting and powder coating

Low cost ownership
See Dock Leveler In Action!