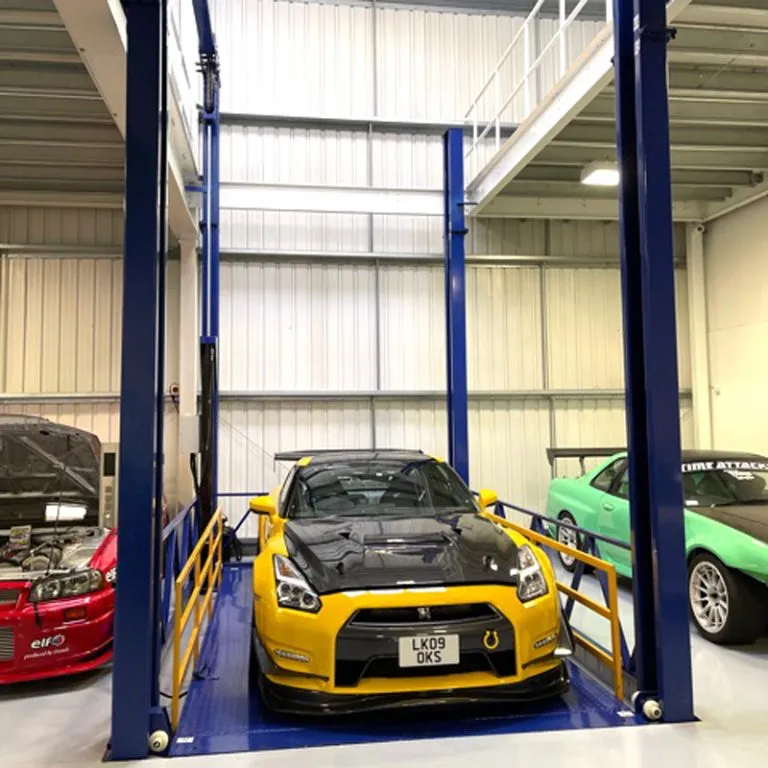 LG Four-post Car Lift is ideal transportation conveyor for moving vehicle from one level to another. It has plenty of features, such as high precision hydraulic transmission, stable lifting, simple operation, low failure rate, high strength chain drive, large load capacity, long service life and high safety factor.
Four-post Car Lift is widely used for automobile 4S stores, large garage, large parking lot, for vehicle lifting or parking, can also be used as a cargo lift.
FOUR-POST CAR LIFT Application
Four-post car lifts are mainly used for vehicles transferring between different levels of floors. Both in door and outdoor are available.
Model
Capacity
Platform size
Lifting height
Motor power
Min. Height
Power supply V
LGH3-3
3000KG
5500x2500mm
3000mm
4KW
200mm
220/240/380/415
LGH3-3.5
3000KG
5500x2500mm
3500mm
4KW
200mm
220/240/380/415
LGH3-4
3000KG
5500x2500mm
4000mm
4KW
200mm
220/240/380/415
LGH3-4.5
3000KG
5500x2500mm
4500mm
4KW
200mm
220/240/380/415
LGH3-5
3000KG
5500x2500mm
5000mm
4KW
200mm
220/240/380/415
LGH3-5.5
3000KG
5500x2500mm
5500mm
4KW
200mm
220/240/380/415
LGH3-6
3000KG
5500x2500mm
6000mm
4KW
200mm
220/240/380/415
LGH3-6.5
3000KG
5500x2500mm
6500mm
4KW
200mm
220/240/380/415
LGH3-8
3000KG
5500x2500mm
7000mm
4KW
200mm
220/240/380/415
LGH3-8
3000KG
5500x2500mm
8000mm
4KW
200mm
220/240/380/415
LGH3-9
3000KG
5500x2500mm
9000mm
4KW
200mm
220/240/380/415
LGH3-10
3000KG
5500x2500mm
10000mm
4KW
200mm
220/240/380/415
LGH3-11
3000KG
5500x2500mm
11000mm
4KW
200mm
220/240/380/415
LGH3-12
3000KG
5500x2500mm
12000mm
4KW
200mm
220/240/380/415
LGH3-13
3000KG
5500x2500mm
13000mm
4KW
200mm
220/240/380/415
LGH3-14
3000KG
5500x2500mm
14000mm
4KW
200mm
220/240/380/415
LGH3-15
3000KG
5500x2500mm
15000mm
4KW
200mm
220/240/380/415
LGH3-16
3000KG
5500x2500mm
16000mm
4KW
200mm
220/240/380/415
LGH3-18
3000KG
5500x2500mm
18000mm
4KW
200mm
220/240/380/415
LGH3-20
3000KG
5500x2500mm
20000mm
4KW
200mm
220/240/380/415
LGS5-3
5000KG
7000x2800mm
3000mm
4KW
250mm
220/240/380/415
LGS5-6
5000KG
7000x2800mm
6000mm
5.5KW
250mm
220/240/380/415
LGS5-9
5000KG
7000x2800mm
9000mm
5.5KW
250mm
220/240/380/415
LGS5-11
5000KG
7000x2800mm
11000mm
5.5KW
250mm
220/240/380/415
LGS5-13
5000KG
7000x2800mm
13000mm
5.5KW
250mm
220/240/380/415
LGS5-15
5000KG
7000x2800mm
15000mm
5.5KW
250mm
220/240/380/415
For reference choice only, customize available per loading capacity, platform size and travel height
3D sketch drawing brings customer real experience and helps the customer understand the scissor lift table better. Customer is welcomed to send us site pictures, showing us the site condition where the lift is supposed to be installed. Our engineer will make designs of the scissor lift table properly. This shows the customer the real effect of how the scissor lift table will be installed and how does it looks like
✅ Heavy Duty Posts
✅ Anti-drop when platform level with floor
✅ Heavy duty leaf chains
✅ Back up wire rope for safety
✅ PLC control box
✅ Safety backup limited switch
✅ 24V Safety control circuit
✅ Side railings on platform
✅ Digital control pane on each landing stop
✅ Manual lower valve
✅ Emergency stop
✅ Explosive-proof valve
✅ Pit install, pit depth 200mm
✅ 5 year warranty on main structure (indoor use)
✅ 1 year warranty electrical components
 Overload/Working warning alarm
 Fixed access ramp(for pit-less application)
 Motor station protection box
 Electric roller shutter landing doors
 SS304 Cabin on platform (No door on cabin)
 Remote control