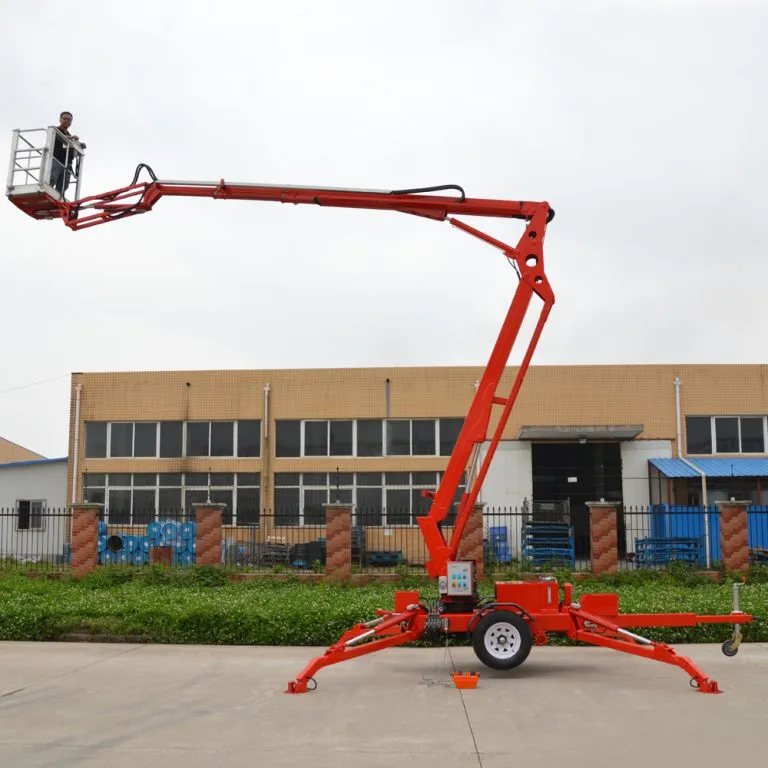 Trailer boom lift, also named as towable boom lift or trailer mounted boom lifts, provides economical and practical aerial solutions. It offers extremely safe and effective up, down and cross over capabilities with compact and light apparatus. Meanwhile, it has faster moving speed than traditional boom lifts with its robust tow bar.
For easier short distance transportation and moving, option of battery or engine assist easy moving function is provided. One person could control moving or turning of the lift easily. The hydraulic actuated auto leveling outriggers help to fit for different job site conditions such as uneven ground or on slope roads.
Trailer Boom Lifts Application
Trailer boom lift is specifically engineered for those tricky, high-up, hard-to-squeeze-into jobs, such as aerial maintenance, cleaning, fixing and so on.
Model type
LGT-10
LGT-12
LGT-14
LGT-16
LGT-18
LGT-20
Lifting height
10m
12m
14m
16m
18m
20m
Working height
12m
14m
16m
18m
20m
22m
Load capacity
200KG
200KG
200KG
200KG
200KG
200KG
Platform size
0.9*0.7M
0.9*0.7M
0.9*0.7M
0.9*0.7M
0.9*0.7M
0.9*0.7M
Working radius
4.5 m
7 m
7 m
8 m
8 m
Net Weight
1600 kg
1800 kg
2500 kg
2800 kg
3800 kg
4200kg
Overall Size( L*W*H) m
5.14×1.6×1.9
5.8×1.8×2.2
6.6×1.7×2.13
7×1.8×2.3
7.2×1.8×2.3
Wind Resistance Level
≦5
≦5
≦5
≦5
≦5
≦5
Units for 40GP
3 units
3 units
3 units
3 units
2 units
2 units
Multi choice for power type
Diesel Power; Gasoline Power; AC Power; DC-battery Power; Diesel + AC power Gas + AC power; Diesel + DC power; Gas + DC power; AC + DC power
✅ Loading capacity 200kg
✅ Bucket platform size 900*700mm
✅ Lifting up/down power AC Electric
✅ Bucket&Ground controls
✅ Motion horn & Indicator light
✅ Auto-leveling outriggers
✅ Telescopic upper beam
✅ Proportional controls
✅ Water proof controls
✅ 360° Rotation
✅ Emergency stop and lowering
✅ Horizontal leveling detector
✅ Parking brake
Wide range of options & accessories to meet the individual requirements for trailer boom lift.
✅ Battery power for up/down
✅ Diesel power for up/down
✅ Gasoline engine for up/down
✅ AC plug to platform
✅ Air or water lines to platform
✅ Assist moving system