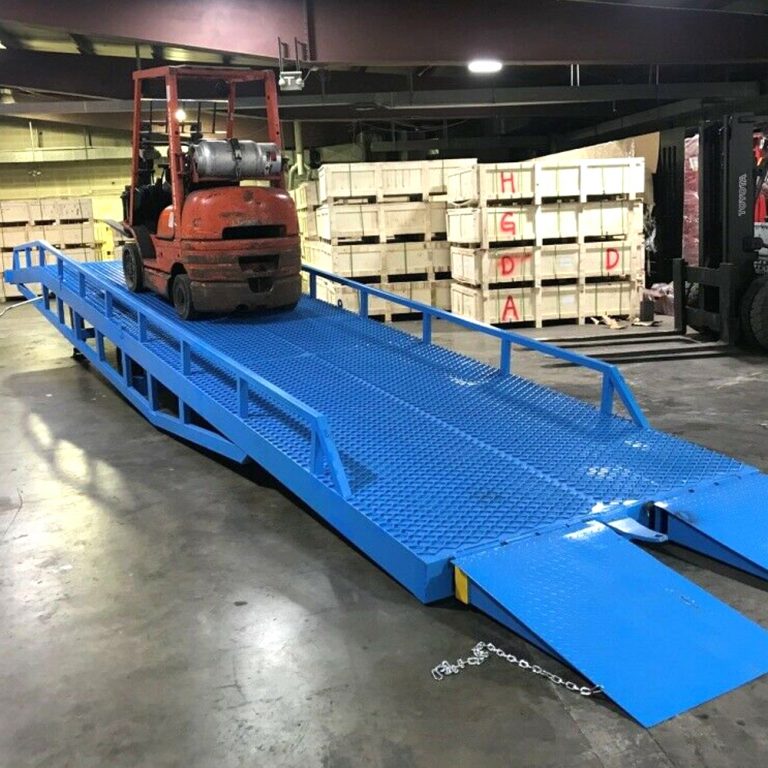 A yard ramp is a ramp that bridges the gap between your warehouse and trucks, creating a level surface for transporting materials. They are also known as movable loading ramps because they allow for the unloading of trucks at nearly any location. Yard ramps are often used in combination with existing loading docks that expand their capacity without having to relocate to a larger warehouse. The central advantage of a yard ramp is productivity. This equipment allows you to set up freight loading operations pretty much anywhere, so you can use more of your facility space to get more jobs done in less time.
With extremely high weight capacities, yard ramps make heavy-duty freight handling much easier and safer, allowing forklifts to safely access shipping containers and truck trailers and perform tasks more efficiently. This not only protects any goods in transport but everyone working in your warehouse.
The mobile loading ramp is a cargo loading and unloading auxiliary equipment used in conjunction with a forklift. The forklift can directly enter the compartment through this equipment for bulk loading and unloading of goods.
Model
Load Capacity
Overall Size
Height
Power
Weight (kg)
LGD-6
6Tons
≈11.2*2*1.4
≈1.2 M to 1.7M
Manual handle for up & down
≈2200
LGD-8
8Tons
≈11.2*2*1.4
≈1.2 M to 1.7M
≈2300
LGD-10
10Tons
≈11.2*2*1.4
≈1.2 M to 1.7M
≈2400
LGD-12
12Tons
≈11.2*2*1.4
≈1.2 M to 1.7M
≈2600
Optional: AC power for Up & Down
LG LIFT will be available to you with open communications from our engineering staff, providing 2-D and 3-D plans that outline everything from site preparation to project completion.
✅ Anti-skid running surface of ramp
✅ Manual handle operation-easy and convenient
✅ Safety chains connection with container hooks
✅ Solid tires-maintainence free
✅ Tire blocker*2pcs-ensure tires are stable
✅ 50ton capacity heavy duty leg*2pcs
✅ Safety curb/railings to protect accident runoff
✅ Tow-bar for easy moving